Not many words today for they might lead to too many. Yes, it has turned in to one of those days, not 13 thankfully, she has been grand. My return to work after being home constantly for the last week and a half has not fazed her as I feared it might. I got a lovely kiss and a hug when she and her dad came to collect me when my day ended, that felt pretty good, to be welcomed home.
And that's it for words.
Only one picture today.
Routine – Return from work.
Day 9. Elevate the Everyday.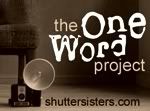 All images © L. McG.-E. All rights reserved.
© 2012, Penbleth / L. McG.-E.. All rights reserved.