We are well into the middle of the school holidays. The daily routine is set, there really isn't much to say about it. This is a good thing. The years and years of daily struggle with a child who, bewildered by the change to her pattern of school days and unable to verbally express herself, lashed out frequently through the days. A good day then was one where the scratch mark didn't break the skin – and yes I DO mean her scratching one of us. Or kicking. Or pulling hair. Or breaking something. Or … you get the picture.
Thankfully we have hit a more settled phase (and that probably means tomorrow will be a nightmare). I still have trouble sitting in the front seat of the car with 13 behind me, it's a prime target for hair pulling. Now I get into the backseat beside her, yes, it is caving in to her behaviour but it gets us safely to our destination unhurt. I'm not driving, in case you were trying to work out how we manage it.
Since there is nothing particularly noteworthy about which to write today, here are some pictures.
Being present in my day, savouring each moment, including a moment of joy shared between my girls.
High Five!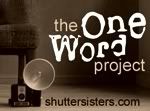 For Shutter Sisters Elevate the Everyday – Day 8 – Texture.
Also in this, green, the weekly prompt for the Chakra Photo course, one of the amazing e-courses from the wonderful Vivienne McMaster.
All images © L. McG.-E. All rights reserved.
© 2012, Penbleth / L. McG.-E.. All rights reserved.