It hadn't really been my intention to make use of the August Break today but time has got away from me and here in Blighty it is almost tomorrow. What I plan for the rest of the month is to write when I have something interesting to say AND have enough time, on the days when I don't have the inspiration and/or the time I will post at least one picture.
August Break is the brainchild of Susannah Conway, a way of keeping your blog active and engaged over August while you might not be in the mood, or have the time, to write.
A second image for Shutter Sisters - One Word Project - Elevate the Everyday.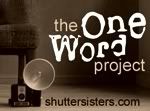 A little instant love here, Impossible Film PX 70 Color Shade, taken with the Polaroid Land 1000.
All images © L. McG.-E. All rights reserved.
© 2012, Penbleth / L. McG.-E.. All rights reserved.